We're giving away a pair of sunglasses from the new Swiss brand, Glacier Optics, so we thought it would be a good time to check in with Arnaud Cottet, one of the brand's founders. Arnaud's been a regular in our magazines over the years, traveling the world, and inspiring us with amazing stories from his adventures. He's also been behind the scenes working as a judge at many freestyle comps, including the last Olympics. On top of that, we're always stoked on his creative community projects and movies, so we were pretty curious to see what his plans were for his new brand…
Hey Arnaud, how did you guys come up with the idea of starting a sunglasses brand?
On a few expeditions in Alaska and Afghanistan we had to buy serious (category 4) sunglasses to protect our eyes at high altitudes or during long days on glaciers. Like every expedition, we spend more time waiting for the weather window than skiing. Waiting during a few days stuck in the tent makes you think of great ideas. That's where the idea of making our own sunglasses came from. It started as a joke, and a few years later, here we are. There was also a nostalgic purpose behind this project. For years, we were using old sunglasses that we found in the drawer of an old basement dresser from my family home. One day we realized that we had lost them all and the drawer was empty. That's when we knew that it was time to start Glacier Optics.
What makes your sunglasses special, compared to the other ones we already find on the market?
We wanted to make some sunglasses that can fit both high mountain activities and everyday life for both women and men. But the main difference is that we produce as much locally as we can. In the Alps, we have all the necessary know-how to produce high quality sunglasses, so why should we make them on the other side of the planet? That's why we went to Oyonnax, in France, where they have an ancestral know-how in manufacturing sunglasses. This area is called the Silicon Valley of sunglasses! We were happy to find a reliable manufacturer to work with. This is a small family owned manufacturer that started back in 1950. Working with a family business located very close to Switzerland makes more sense to us.
The quality and reliability of the product is one of the other keys of Glacier Optics. We designed the Moiry frame using titanium and acetate. These materials ensure robustness and lightness. Something that you definitely need up in the mountain. We also had the chance to work with Carl Zeiss Vision to produce our lenses in category 3 and category 4. They are produced in the heart of the Italian Alps.
Did you have any experience with sunglasses before this or not at all?
Not really, even if I had the chance to work with Giro as I was sponsored by the brand. But we have quite a lot of experience in the outdoor and mountain industry.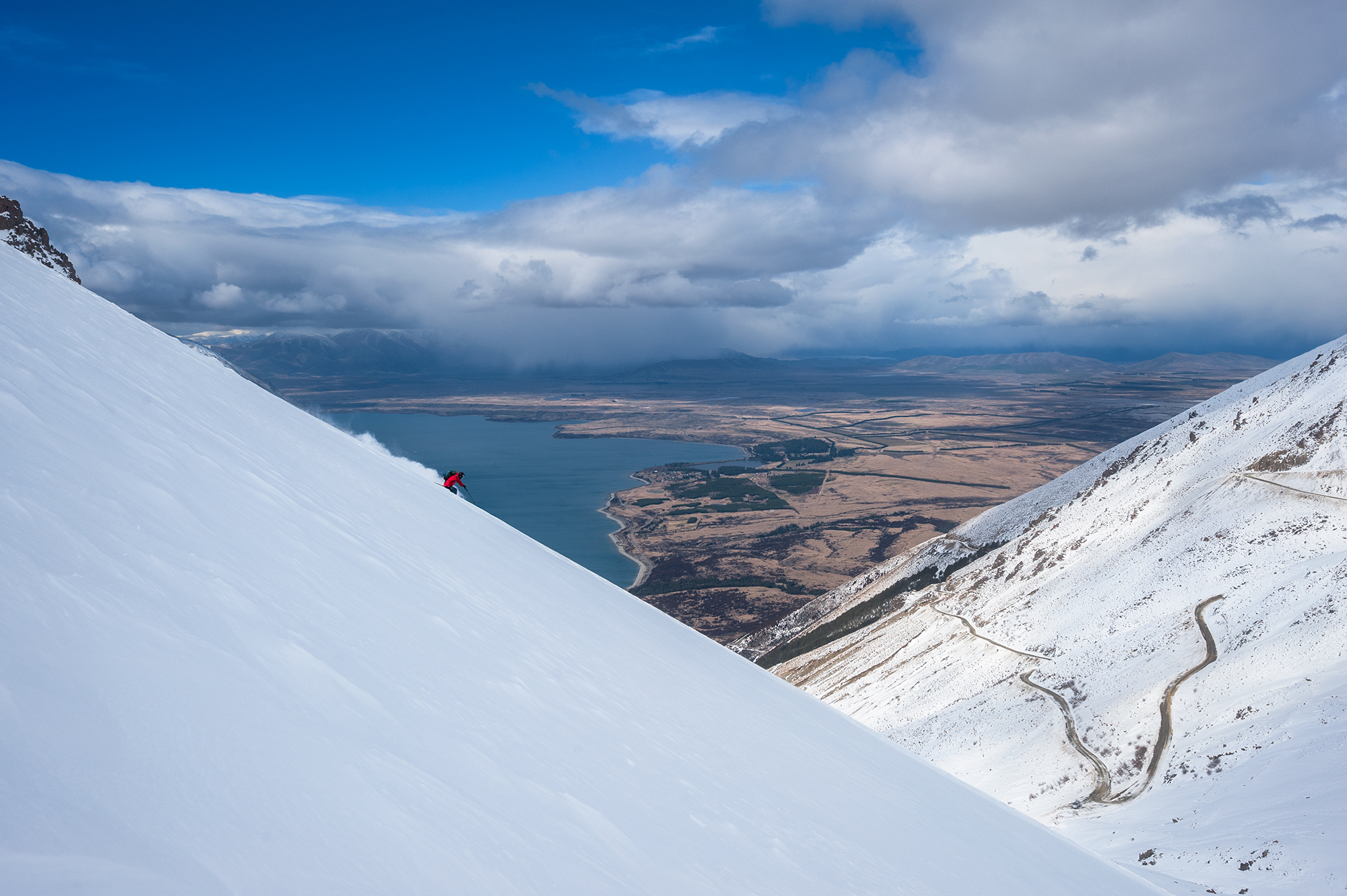 How did you come up with this name and what is your relation with glaciers?
Honestly, I don't really remember, I think it was in Alaska in 2016. Sitting on a glacier and chatting about sunglasses with some friends. For sure, the word « glacier » is getting stronger and stronger with all of the sustainability and environmental issues that we are facing. Some issues that are at the center of our values.
Interesting… so what makes your brand more ethical than the others?
All the projects we have done with Ben need to bring us more than just performance or visibility. It was always more about the human experience. For example, our project We Ride in Iran which has done so much to promote skiing for Iranians. Therefore, starting a brand to just sell as much as we can and making the most profit is not very inspiring for us. It definitely needs to make sense. Producing locally is more expensive but the money goes back to people who are located in the Alps. We try to do it as much as we can.
Unfortunately, it is pretty hard to be always 100% coherent. The small amount of our production and the complexity of our Moiry raises the price of production. We have leather spare parts, magnets inserted in the frames, Carl Zeiss Cat. 4 lenses, limited edition prints, etc. All these aspects make the Moiry unique, but also raises the cost. We are sometimes closer to the production of a Swiss watch than sunglasses, but we do want these sunglasses to still be affordable for every mountain enthusiast that cares about their sunglasses and how they are produced.
A lot of brands try to launch with the endorsement from a popular pro, or a by promoting a team. Also the two of you guy ride well and you're still filming a lot… so basing your marketing around yourself might have made a lot of sense. But instead, the central figure in your campaign is an older gentleman. What's his story and why did you choose this direction for introducing your brand's image?
Roland is the father of Tim Cachot, one of our close friends that helped us a lot and supports the project from the beginning. Roland is truly dedicated to the Alps. He rides way more days than you & me! His lifestyle, mountain approach, his relation to the mountains and the way he treats our Alps is really inspiring. Roland is 82 years old, ski touring almost every day. Honestly, that is way more inspiring than using ourselves as the brand's image!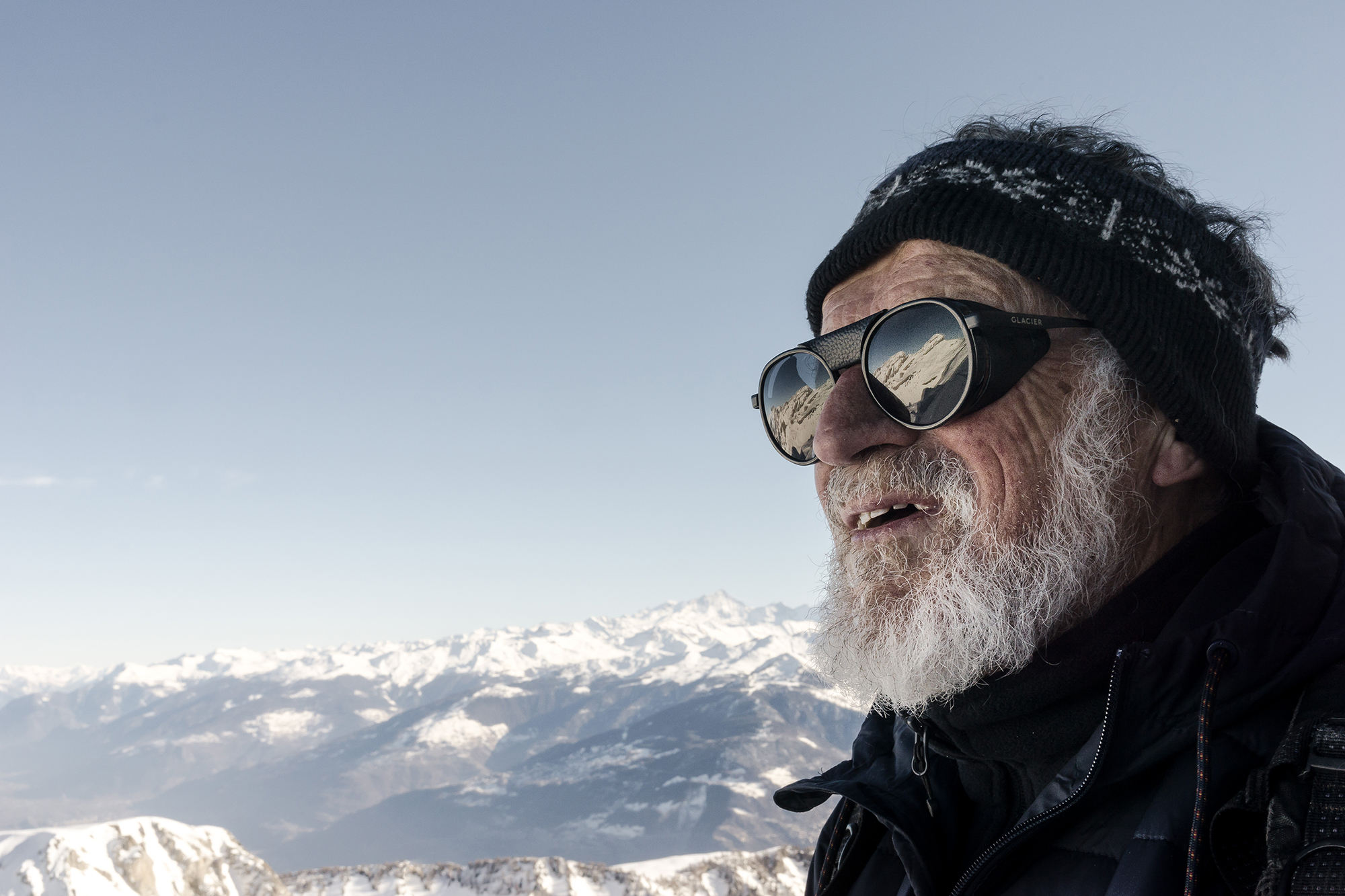 Why did you choose to launch your project on Kickstarter?
Kickstarter is a good opportunity to start and raise money for your project. You have to think in advance of all the details before you publish it. It's like a business plan for our brand, but way more fun and relevant to make. The Kickstarter is also a good way to evaluate the strength of the project. With more than 140% raised, it gives us a certain credibly and also confidence to continue this project.
Any last words before we finish this little interview?
There is only 100 pairs left out of our 300 limited edition. If you want to get them, you can order on www.glacieroptics.com.
Want to try your luck at winning a pair for yourself? Just email win@twinmagazine.ch with the names of the two founders of Glacier Optics for your chance to win!