Christian Moser just posted an amazing full street segment. Since we were pretty stocked about the clip, we decided to ask him a few questions about his street missions.
Hey Christian can you introduce yourself for the people that don't know you?
Hey, my name is Christian Moser, I'm 22 years old and I live in Reichenbach. Reichenbach is a small village in the Bernese Oberland and it's not that far away from my home resort, Adelboden-Lenk. I grew up there and I started skiing in my home park, Gran Masta Park (GMP). When I'm not skiing, I work as a surveyor (so far). But from this autumn on I'm going to school again for a few more years.
Tell us bit more about your crew… What is the Sqad?
Well, the Sqad was created through the fusion of two crews during the 2013/2014 season. Freestyle Jürgs from the region around Gstaad and Optimum Films from Adelboden. Thanks to this fusion, I joined as well. During the last years several people joined us even outside of the Bernese Oberland. In the beginning it was all about making cool stuff together and having fun. And today it's still the same. I wouldn't describe ourselves as a classic freestyle crew. We are friends who have fun together and have come together through skiing and snowboarding. At the moment we have no big upcoming projects. There are two or three little things coming up this autumn or in the preseason. But bigger video projects or bigger trips with many people at the same time aren't planned at the moment.
Let's talk about the video and shooting street spots in general now.
What's the idea behind the video and how did you make it happen?
Well actually, there wasn't really an idea behind the video. I just love street skiing: looking for spots, getting there, shoveling, preparing the winch or the bungee, installing lights, filming and having fun together at the spot.
Of course, I also like skiing in snowparks, but you can't compare street skiing with regular park skiing. When you get to a spot, nothing was built for you. You need snow at the spot, a good crew (enough people for cameras, winch or bungee etc.), an in-run, a landing, shovels, lights in the night etc. When you go to a snowpark, you can ride and film with just two people. All the obstacles and kickers are built for you and they are meant to be ridden. All these factors make streetskiing much more difficult than parkskiing. And that's how I like it.
During the last two years we had a lot of fun sessions. And I finally had enough shots for my own video segment, with street shots only. It might be a bit surprising, but most spots were not only filmed together with members from the Sqad. Many sessions have been filmed with other good friends of mine. Often it was difficult to motivate enough people for a street session. Concerning the locations: all spots were filmed in Switzerland from the Graubünden region to the french speaking part of Switzerland. I would love to do an urban trip somewhere else in Europe. But we have the same problem again, there are not enough motivated people… But maybe next season, we will see!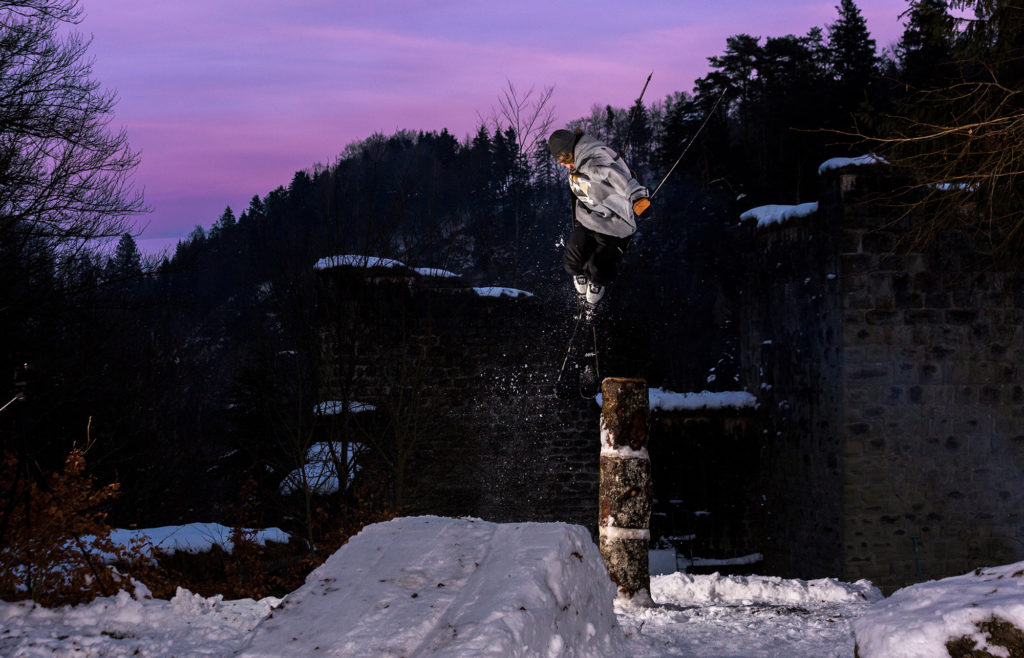 Do you have a great story about one of the sessions in the video?
Hmmmmm.. Yes for sure, but way too many for this interview haha!
But here are some cool facts:
Broken bones or other big accidents – 0
Funny moments and fails – hundreds
Destroyed skis – 2
Night sessions with arrival at home after 2 o'clock in the morning – 4
Total people involved – 37

Tell us a bit more about the ender spot.
I am wondering how you could ride away of such an impact… Did you loose a few vertebras in the process?
The ender spot was in the west of Switzerland, together with our french speaking friends from Buldozlife. Fortunately, I only needed four tries after the speed check to get the shot. But all four of them were totally or nearly to flat. Regarding my back, at the moment of the impact it hurt a little bit (for maybe five seconds or so). One day later, at the next spot in Spiez – the heavy zig-zag rail, everything was fine again. But ask me the same question again in 30 years…
Is there anything you would add before we finish this little interview?
Not really, I just want to thank my friends for making such sessions and such a video possible! And thanks you too, Pierre, for giving me the opportunity of this interview!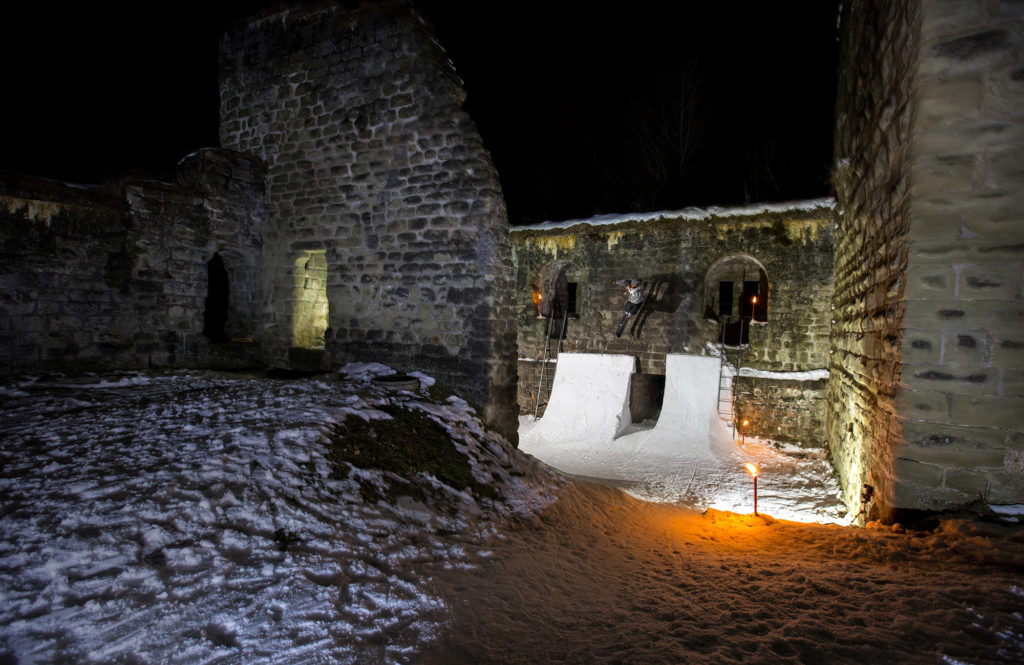 Thanks to Alain Eberhart (@alaineberhart) for the great pictures & to Christian Moser (@_haeuptling) for answering our questions.