Making movies has become cheaper and easier than ever. But for some reason, most skiers seem content to drop a season edit that follows the same format as the same sponsor-me tapes that we used to get sent to us 20 years ago. That's why we were pretty stoked to see a different approach from a new name in the Swiss ski community. Check out Fantin Ciompi's latest edit and then keep reading to get to know him better…
Hey Fantin, nice work on your new edit! But before we get into it, can you take a moment to introduce yourself?
Hey, thanks, I appreciate it! Yeah sure… so basically, I live in Ollon, a village close to the ski resort Villars-Gryon-Les Diablerets. But I'm actually in the sports school in Engelberg where I live during the week. I'm back home almost every week-end, which is cool! I'm 16 and I started skiing at the age of 2. My father was a professional aerial skier and he taught me backflips at 8. I think it's at this moment that my passion for freeskiing began. 
Nice… So where did the idea for Take-off come from?
I am sponsored by LED Solaire, a LED company, and they gave me the idea to make a movie dressed in LED lights. I thought the idea was great because I always want to do other stuff than classic edits. But I never anticipated all the work that it was going to involve.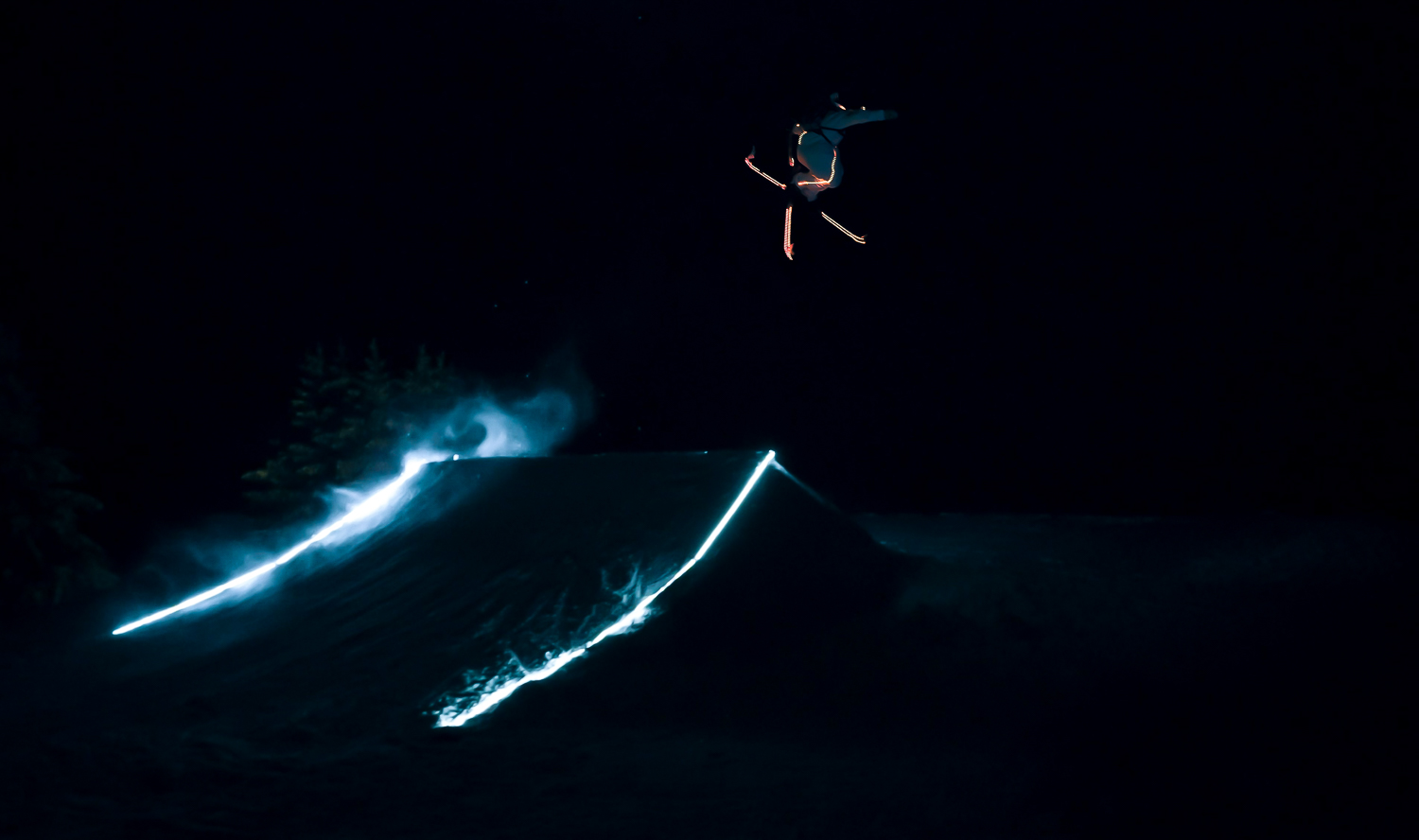 No doubt! It looks like a huge amount of work and planning went into it. I see Ciompis all over the credits. I guess that this is a family project?
My older brother Noé works at "120 minutes" an funny TV show well known in the French part of Switzerland. He's responsible for the special effects for this show. So he directed and edited Take-off, and he made the visual effects. He did a tremendous job. Take-off is his movie!
Regarding the scenario, we did some brainstorming with all the family. And the whole family helped a lot during the actual shooting. The idea of the title "Take-off" comes from my other big brother, Simon. My mother took care of the communication with the ski resort as well as catering, costumes and transport. The ski resort prepared the park for us, and the park's bar "Chez Jimmy" decided to help us by letting us use their ski-doo and opening their doors so that we could stay warm while we were getting everything set up.
What was the most challenging part of filming for this?
It was freezing. So cold! And the connections in the LED suit died before I was on my skis. Two LED Solaire technicians were trying to repair my suit in minus 15 degree temperatures and everyone was frozen. It was not possible to properly tape the lines of LED on my suit. And the batteries didn't work properly, so the LED lights in my suit illuminated mostly red-orange, instead of white. In the end, it resulted in some very interesting images.
Aside from the technical challenges, it was also quite frightening to jump at night. It looked like I was riding so fast before taking-off… and then, I almost couldn't see the landing. But in the end, it was a very special experience.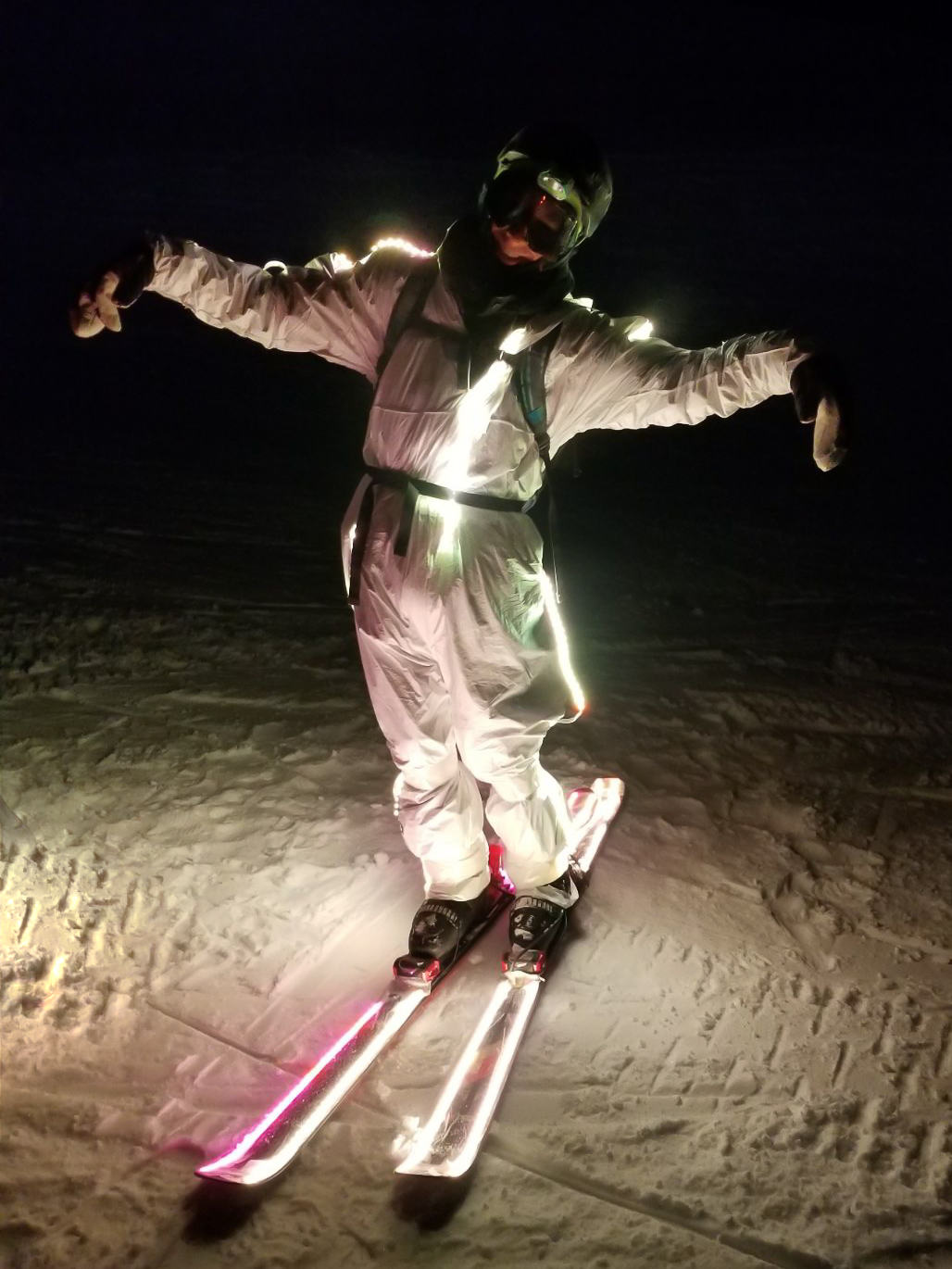 I bet! What other ski movies have inspired you?
At first we thought we were the first to have the idea of skiing with an illuminated suit. But when we searched on the internet and saw several edits with the same concept. This is why we thought it could be a lot better if we added a scenario. We had a lot of different ideas, and in the end, we decided on the rocket.
Do you have more ideas for creative edits like this?
Yes, of course. But we keep it secret for the moment… I have to say that between the preparation, the night shooting, the construction of the story, the shooting of images in the studio, the special effects and the editing, we had a lot more work than we were expecting. Everyone worked many hours for free. For the next film, we will have to find funds.
Ah yes, that would be helpful. If there are any potential sponsors out there reading this, be sure to hit up Fantin!
Otherwise, do you have some other plans for this season?
My first goal is to have fun and not hurt myself. I would also like to reach a good level at the "Swiss Freeski Tour" and improve my results in the European Cup. For this, I must have the 4 dub 10s, and I need to progress in jibbing. For the longer term, my goal is to participate in the Youth Olympic Games 2020 in Lausanne. I'm already selected to the Swiss Olympic Youth Team, a first step towards this competition. Time will tell!
Right on… Thanks for your time Fantin! We're looking forward to seeing whatever you get into next!